Our School Curriculum
Every child at All Saints' CE Federation has access to a broad and balanced curriculum. The curriculum comprises of all the varied and exciting activities and experiences we offer to the children and includes all the statutory requirements of the Early Years Foundation Stage and the National Curriculum.
The Early Years Foundation Stage (Nursery/Foundation 2)
Children begin school with a wealth of skills and knowledge. The period of education from birth to 5 is the Early Years Foundation Stage and pupils in Nursery and Foundation 2 work towards Early Learning Goals in seven areas of Learning. These are split into three prime areas: Communication and Language, Physical Development and Personal, Social and Emotional Development and four specific areas: Literacy, Maths, Understanding the World and Expressive Arts and Design.
National Curriculum Subjects (KS1 and KS2)
These are categorised as Core subjects - English, Mathematics and Science - and Foundation subjects – Computing, History, Geography, Design and Technology, Art and Design, Music and Physical Education. In KS2 the children study a Modern Foreign language (French). Teaching RE is also statutory. In addition we teach Personal, Social and Health Education (PSHE). The basic skills of Reading, Writing and Mathematics are given a high priority.
English
Speaking and listening are fundamental to a child's language development and underpin all areas of learning as well as social development. We plan opportunities for teaching/developing these skills across the curriculum to enable children to express themselves clearly and confidently and listen attentively.
Reading is taught in a number of ways, but initially in KS1 this is largely through a phonics approach. Comprehension skills are also developed alongside phonics to enable our children to become confident, independent readers who read for enjoyment and information every day. Books are sent home on a weekly basis so children can practise their reading skills with a parent/carer. As children develop into fluent readers, there is greater emphasis on developing their comprehension skills: questioning to check their understanding becomes even more important.
Writing skills are also developed on a daily basis. We aim to create real, purposeful and engaging contexts for writing; children have opportunities to work independently, in pairs and in small groups with an adult. Talk for Writing has been introduced across all key stages and is contributing both to children's enjoyment of writing and the development of skills. There is much emphasis on spelling, handwriting and grammar as well as composition.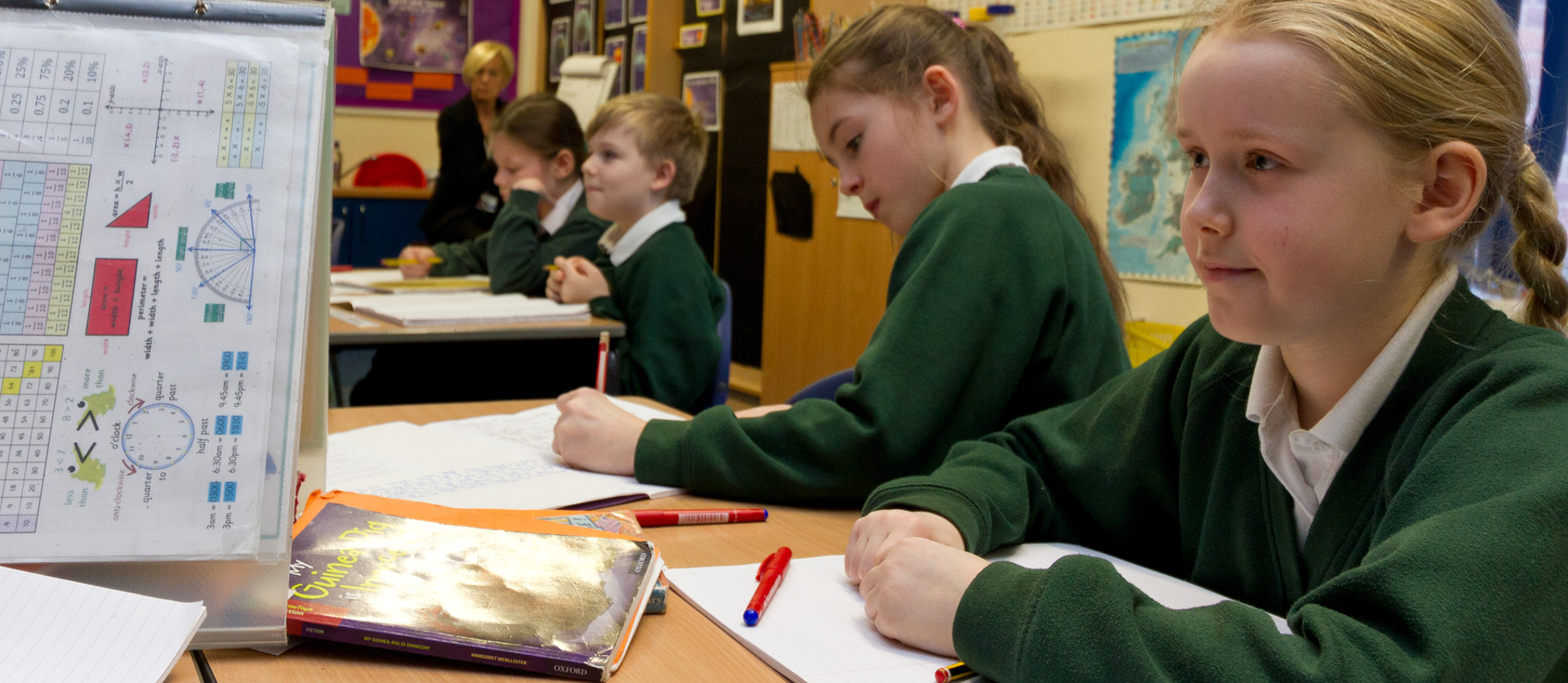 Mathematics
(Number, Measurement, Geometry and Statistics for KS1 & 2, with Ratio & Proportion as well as Algebra mainly in KS2) The National Curriculum has three main aspects: fluency, reasoning and problem-solving. We recognise the importance of a secure foundation in mental calculation and the recall of number facts before written methods are introduced. Practical work is crucial to aid understanding and It is important the children are given the opportunity to apply and use mathematics in everyday and real-life contexts; problem-solving, reasoning and investigative activities are therefore an integral part of our curriculum.
Science
Children are encouraged to work scientifically: to ask questions and find out about the world in which they live. First-hand, practical experiences where children can plan , carry out and observe investigations are key to stimulating children's curiosity and supporting their understanding. At KS1, they investigate living things and their habitats, plants, animals including humans, materials and seasonal changes. These themes continue into KS2, with additional study of more physical aspects such as forces, electricity, light and sound.
Religious Education
Through RE we wish to develop skills, concepts and attitudes that will give children an understanding of Religion. The East Riding Agreed Syllabus provides guidelines which enable us to do this. We study Christianity plus one other major faith in KS1 and two in KS2 to give a breadth of understanding.

Religious affiliations
The school is affiliated with the Church of England and maintains its traditional links with All Saints' Church in Hessle.
Religious Education and Collective Worship Policy
A daily collective Act of Worship is held. This may take the form of a whole school, year group or class worship. The school will make arrangements for parents/carers to exercise their statutory right of withdrawal of their children from religious education.
If you would like any more information please do not hesitate to contact Mrs Newsham, Deputy Headteacher.