Lunch Menu
Please click on the link to view our menu
Menu one
Menu one covers weeks commencing:
03/09/18
24/09/18
15/10/18
12/11/18
03/12/18
07/01/19
28/01/19
Day
Main options
Pudding options
Monday

* Chicken pasta bake
Vegetable pasta (v)

Served with potato wedges, sweetcorn or winter salad

* Chocolate cookie and milkshake
Fresh fruit
Yoghurt

Tuesday

* Braised steak
* Country vegetable casserole (v)

Served with Yorkshire pudding, mashed potato, cauliflower and baby carrots

* Fruit muffin
Fresh fruit
Yoghurt

Wednesday

* Roast pork loin
Quorn roast (v)

Served with Sage & onion stuffing, oven roast potatoes, broccoli and carrots

* Strawberry mousse
Fresh fruit
Yoghurt

Thursday

* Chicken Curry
Keema Curry (v)

Served with Naan bread, steamed rice and mixed vegetables



* Madeline sponge & custard
Fresh fruit
Yoghurt

Friday

*Fillet of fish
Vegetable nuggets (v)

Served with steak fries, garden peas and baked beans

* Winter berry crumble & ice cream
Fresh fruit
Yoghurt
Menu two
Menu two covers weeks commencing:
10/09/18
01/10/18
22/10/18
19/11/18
10/12/18
14/01/19
04/02/19
Day
Main options
Pudding options
Monday

* Pepperoni pizza
* Cheese & tomato pizza (v)

Served with Potato wedges, garden peas and baked beans

* Marble sponge & custard
Fresh fruit
Yoghurt

Tuesday

* Classic lasagne
Roasted vegetable lasagne (v)

Served with crusty bread and winter salad

* Chocolate krispie slice
Fresh fruit
Yoghurt

Wednesday

* Roast ham
* Quorn roast (v)

Served with Yorkshire pudding, mashed potatoes, cauliflower and garden peas

Fruit platter
Yoghurt

Thursday

* Chicken wrap, baby carrots & sweetcorn
* Jacket potato with cheese and coleslaw (v)

* Orange shortcake & custard
Fresh fruit
Yoghurt

Friday

Fshcake
Cheese pasta bake (v)

Served with Steak fries, garden peas and sweetcorn

* Melting moment
Fresh fruit
Yoghurt
Menu three
Menu three covers weeks commencing:

17/09/18
08/10/18
05/11/18
26/11/18
17/012/18
21/01/19
11/02/19
Starting School for the first time is an important and exciting step for your child. Schools are ideal places to encourage children to eat healthy options so All Saints' CE Federation is supported by the fully trained catering staff of East Yorkshire Council, in the preparation of healthy and tempting menus that meet current nutritional guidelines.
Universal Free School Meals
From September 2014 all children in Reception, Year 1 and Year 2 will be eligible for Universal Free School Meals.
Free School Meals – If you think that your child may be entitled to free school meals please contact ERYC, housing and benefit office. An individual request must be made for each of your children.
However, we would kindly ask you to still apply for Free School Meals, should you be entitled if you are in receipt of one or more of the listed benefits:
Income Support (IS)

Income Based Jobseekers Allowance (IBJSA)

The Guarantee element of State Pension Credit

An income-related employment and support allowance

Support under part VI of the Immigration and Asylum Act 1999

Child Tax Credit, provided they are not entitled to Working Tax Credit and have an annual income (as assessed by Her Majesty's Revenue and Customs) that as of 6 April 2010 does not exceed £16,190

Working Tax Credit -during the four-week period immediately after your employment ceases, or after you start to work less than 16 hours per week, your children are entitled to free school lunches

Universal Credit – Please view information on Universal Credit
http://www2.eastriding.gov.uk/learning/schools-colleges-and-academies/school-meals/free-school-meals/
The aim is for children to have a pleasing, positive education experience where they can enjoy healthy food in a safe and nurturing environment. The school menu is a single choice menu, offering vegetarian or a meat meal. The menu is offered on a 3 week cycle, changed each term.
Vegetarian meals are available provided prior notification of your child's dietary requirements is given. It is not possible to choose between meat and vegetarian options on a daily basis.
Junior School Children
Parents can make payment for school meals via Eduspot. Login details are available once your child has been admitted to the school.
Payment for school meals is collected on a Monday, in advance. The cost of a meal is £2.30.
During the lunchtime break the children are supervised by midday supervisors, under the direction of a Senior Midday Supervisor, Mrs L Wood.
Where children prefer to bring a packed lunch to school, a beaker of water is provided, but children can bring an alternative drink in a plastic bottle or paper carton. All Saints' CE Federation prides itself on promoting healthy eating and therefore do not allow fizzy drinks, drinks in glass bottles, energy drinks, chocolate bars or sweets in packed lunches.
Co-operation is requested on ensuring our school remains a NUT FREE ENVIRONMENT due to children and staff in school suffering from life threatening allergies.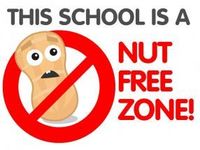 Allergens
In December 2014, The EU Food Information for Consumers Regulation (EU FIC) came into force.
As a school we will be required to keep records of all allergens used in school to which children could come into contact.
School's catering team now need to provide information about 14 allergenic ingredients used in the foods that are provided within the school. Food allergens cannot be removed by cooking that's why it is essential to check and ask for allergen information to make sure that the food your child eats is safe for them.
Food allergens can be life threatening. If your child has a food allergy, the only way you can manage it is to avoid the foods that make them ill. Please speak to a member of our school catering team if you have any concerns about the food that your child is eating at school.
http://www2.eastriding.gov.uk/learning/schools-colleges-and-academies/school-meals/allergies-intolerances-and-special-diets/
Snacks
Key stage 1 children receive a piece of fruit or vegetable, provided by the local authority, each morning break.
Key stage 2 children are invited to bring a healthy (nut free) snack, consisting of a piece of fruit, vegetable or slice of bread and butter. In order to support the School's Healthy Eating programme, confectionary such as chocolate bars, chocolate coated biscuits, savoury snacks such as crisps or sweets will not be allowed.